The stock market ended at 2787.9, a drop of about 4 points from yesterday's close at 2791. Today's trading range was drastic. At its lowest point, it was 2740.36 against the highest point of the day at 2790.60. The day's range was a whopping 50 points difference. The climb started drastically only in the afternoon. But why did it made such a recovery after having dropped 50 points from yesterday's close?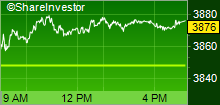 It likely to be an end of quarter window dressing. the climb is not likely to be sustainable. Perhaps, the STI may drop again once we go into the new quarter. Hold tight, guys.
(Brennen Pak has been a stock investor for more than 26 years. He is the Principal Trainer of BP Wealth Learning Centre LLP. He is the author of the book "Building Wealth Together Through Stocks.") – The ebook version may be purchased via www.investingnote.com.